Massage Therapy
750 Hour Curriculum
Start Your Career
In Massage Today
This 750- Hour program will give you the tools you will need to be successful within the massage industry. With massage being one of the fastest growing careers in today's job market, set yourself up for success by enrolling today! 
(251)-473-2220
Find Your Future with Massage Therapy at Blue Cliff
Our program includes a solid foundation in anatomy, physiology and pathophysiology, which form the basis for training in specific massage techniques. Hands-on techniques include Swedish Massage, Deep Tissue, Neuromuscular Therapy, Spa Massage, Sports Massage, Basic Shiatsu and Supervised Clinical Practice. This program also includes a course in Marketing with professionalism leading to the development of an operational business plan.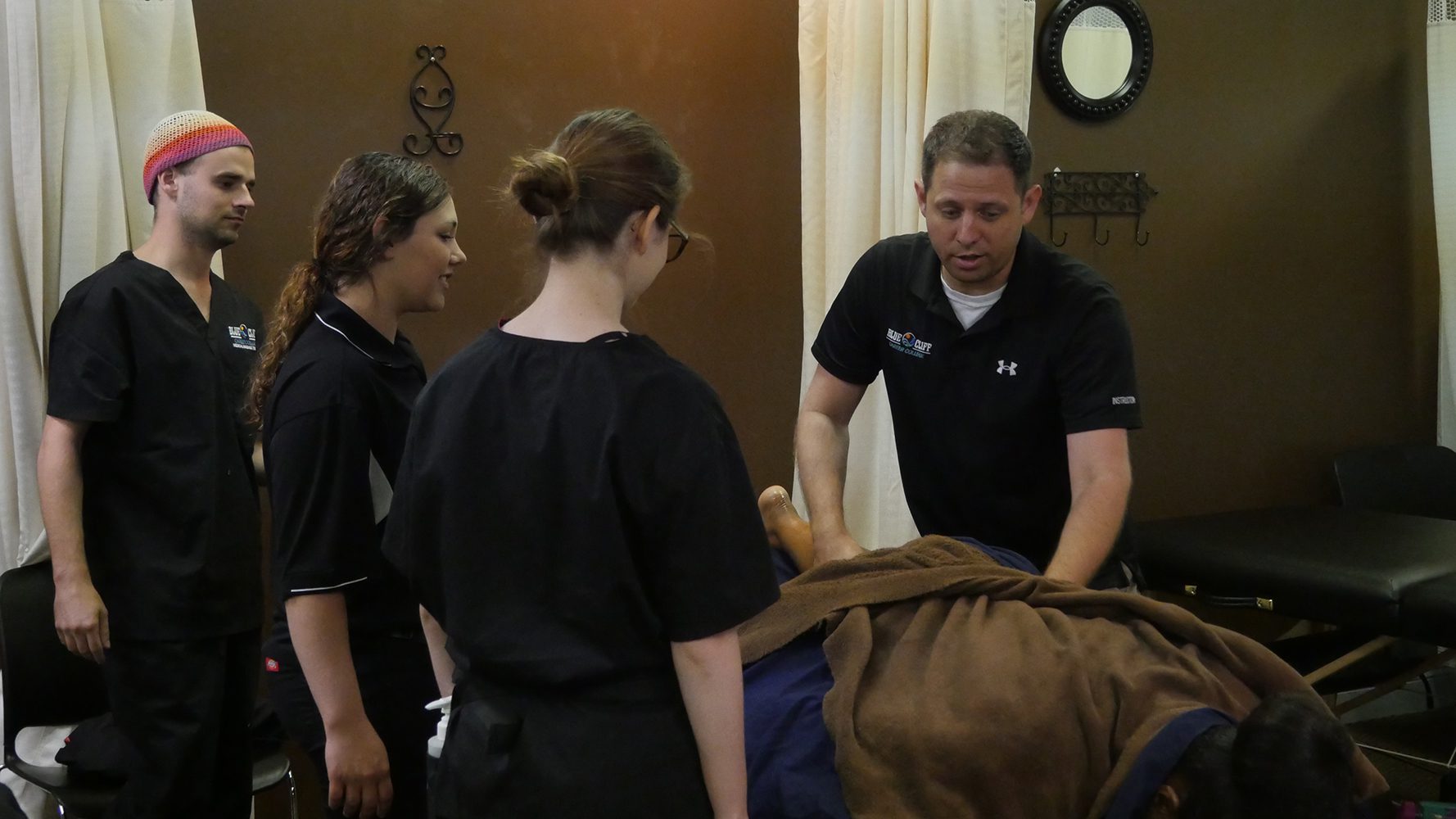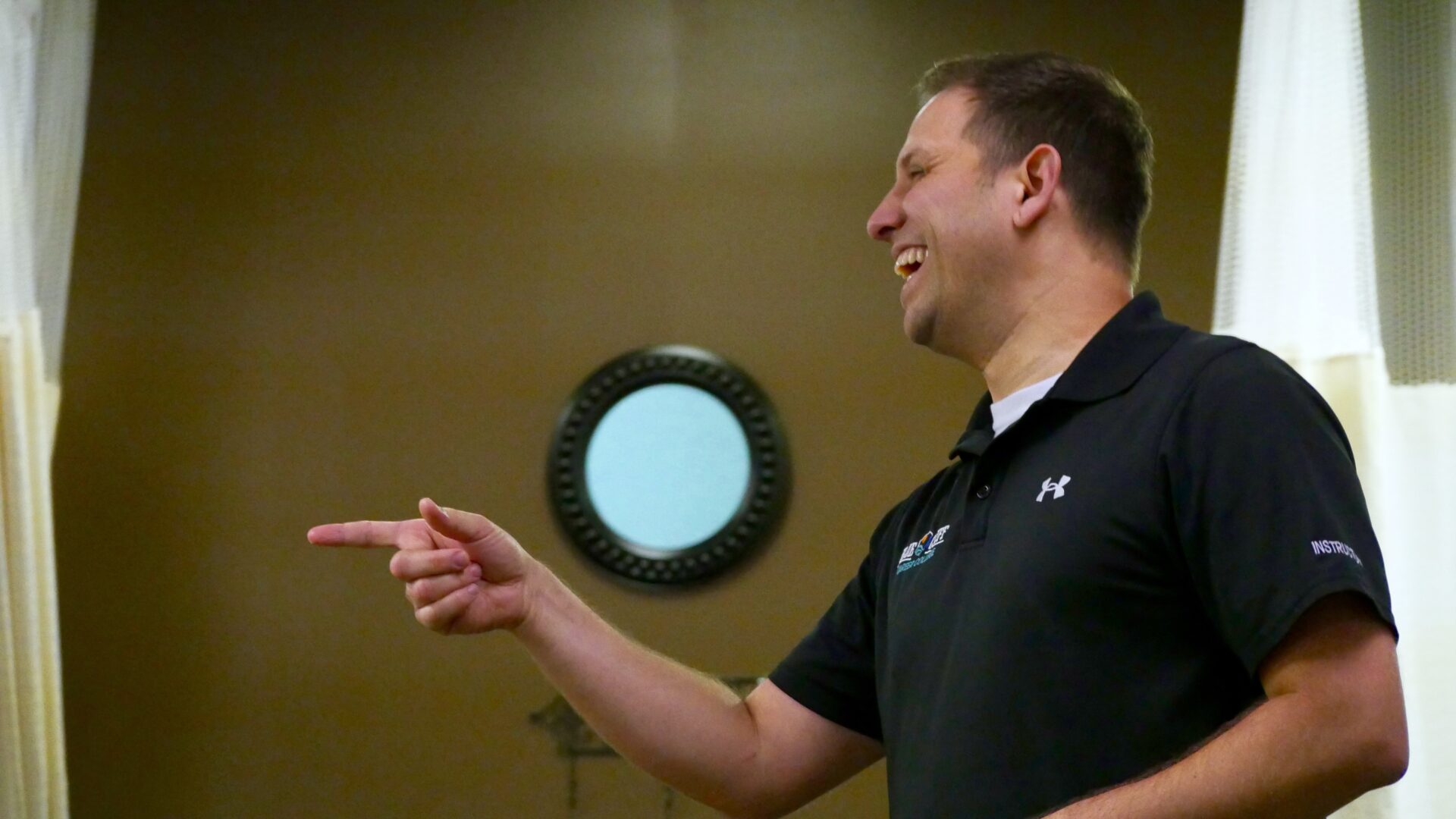 *All stats projected are from the 2018 Bureau of Labor Statistics  for Massage Therapy. At Blue Cliff, our goal is to help all graduates find employment, however we specifically do not guarantee employment or wage levels.*
Learn by doing in our Massage Therapy Courses
The students will master the basic techniques of Swedish massage, including specific draping options for a one hour full-body protocol.
These techniques include effleurage, petrissage, friction and tapotement. The student will learn contraindications and indications for massage, stroke execution and variation to determine relaxation or energizing effects. Each student gives and receives massage in the classroom under supervision. Proper body mechanics and self-care is taught as key to longevity in the profession. The student will learn how to take a client history. Each student is required to document a minimum of ten massages given to the public in the student clinic.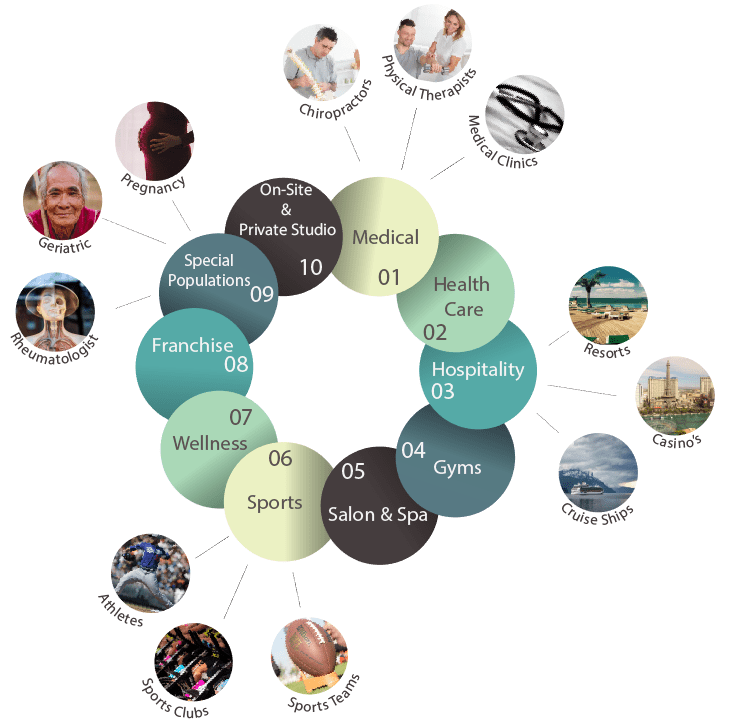 Proficiency Goals
Demonstrate proficiency and confidence in both relaxation and clinical massage techniques.
Gain the practical knowledge of anatomy, physiology and pathology, relating to massage.
Gains practical knowledge of the structure of the human body and the function of the human body system.
Demonstrates the palpation skills to locate and identify various body structures.
Understand contraindications and indications for massage therapy.
Shows proficiency in the application of techniques including deep tissue, connective tissue, and neuromuscular massage therapies.
Ability to perform range of motion and orthopedic testing.
Gains knowledge of trigger point patterns and their effect on function.
Demonstrates the ability to perform Swedish massage therapy, including the techniques of effleurage, petrissage, friction and tapotement.
Proficiency Goals Cont.
Gains and understanding of ethical and professional issues and client screening. Exhibits knowledge
and skill in designing an effective treatment plane for the client's condition.
Demonstrates knowledge and skill in adjunct techniques/methods (hydrotherapy, stretching, joint mobilization and muscle energy techniques).
Demonstrates knowledge and skill in Russian techniques and Medical Massage Techniques.
Gains an ability and knowledge of sports massage techniques.
Has practical knowledge of Eastern and Western Practices theory and application.
Gains an understanding of energy concepts including Shiatsu.
Gains the knowledge for appropriate communication with other health professions, including client referral.
Able to manage the many facets of a professional practice, from legal/professional issues to marketing strategies.
Demonstrates the ability to communicate effectively with clients and prospective employers.
And Much Much More!!!
Top Flight Instruction, Top Flight Education
Real People, Real Careers
Employers Love Our Students!
Blue Cliff strives to develop and maintain very strong relationships with local employers. Employers are looking to hire our students day to day! What are you waiting for?
Your Future, In Your Hands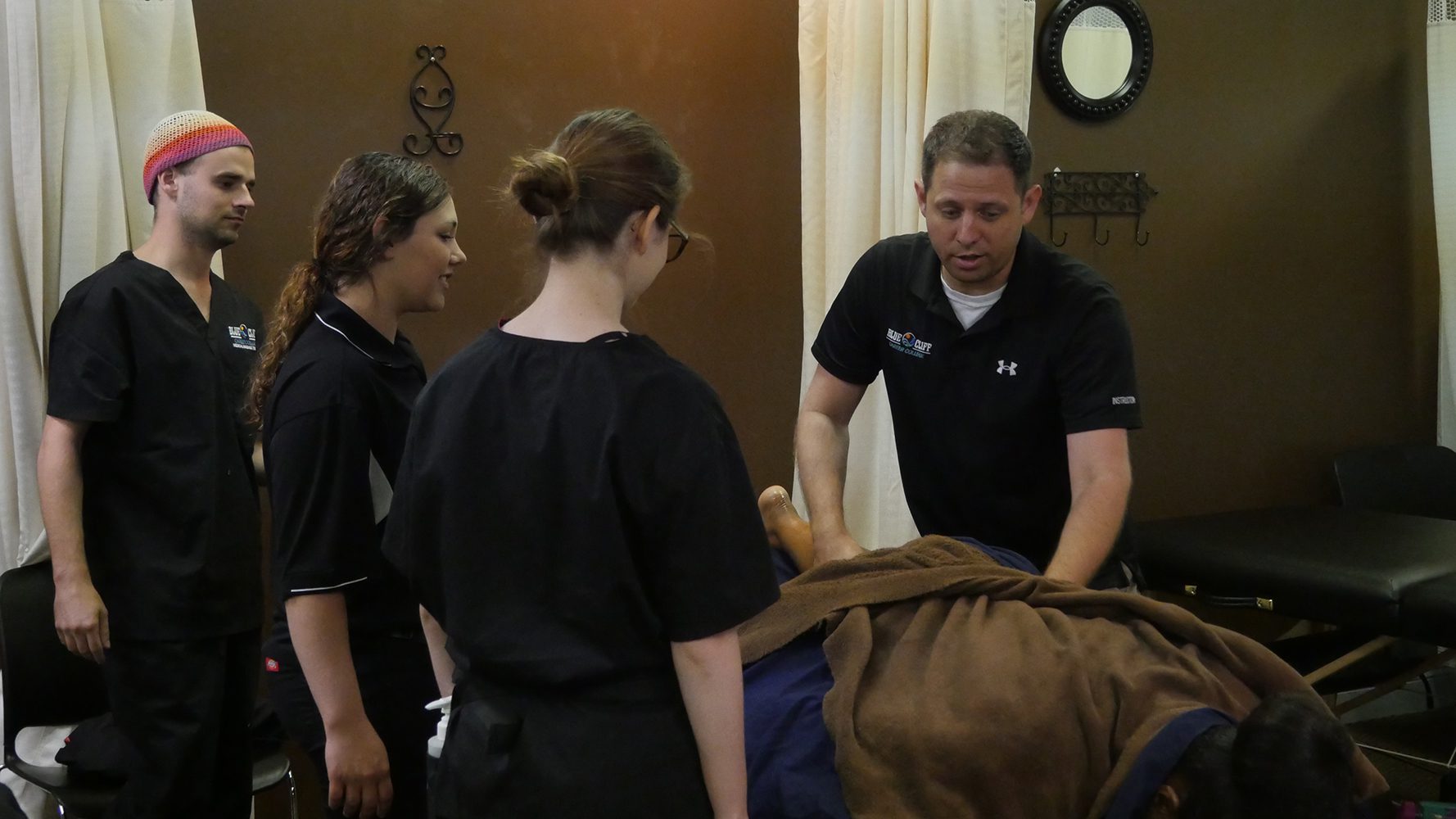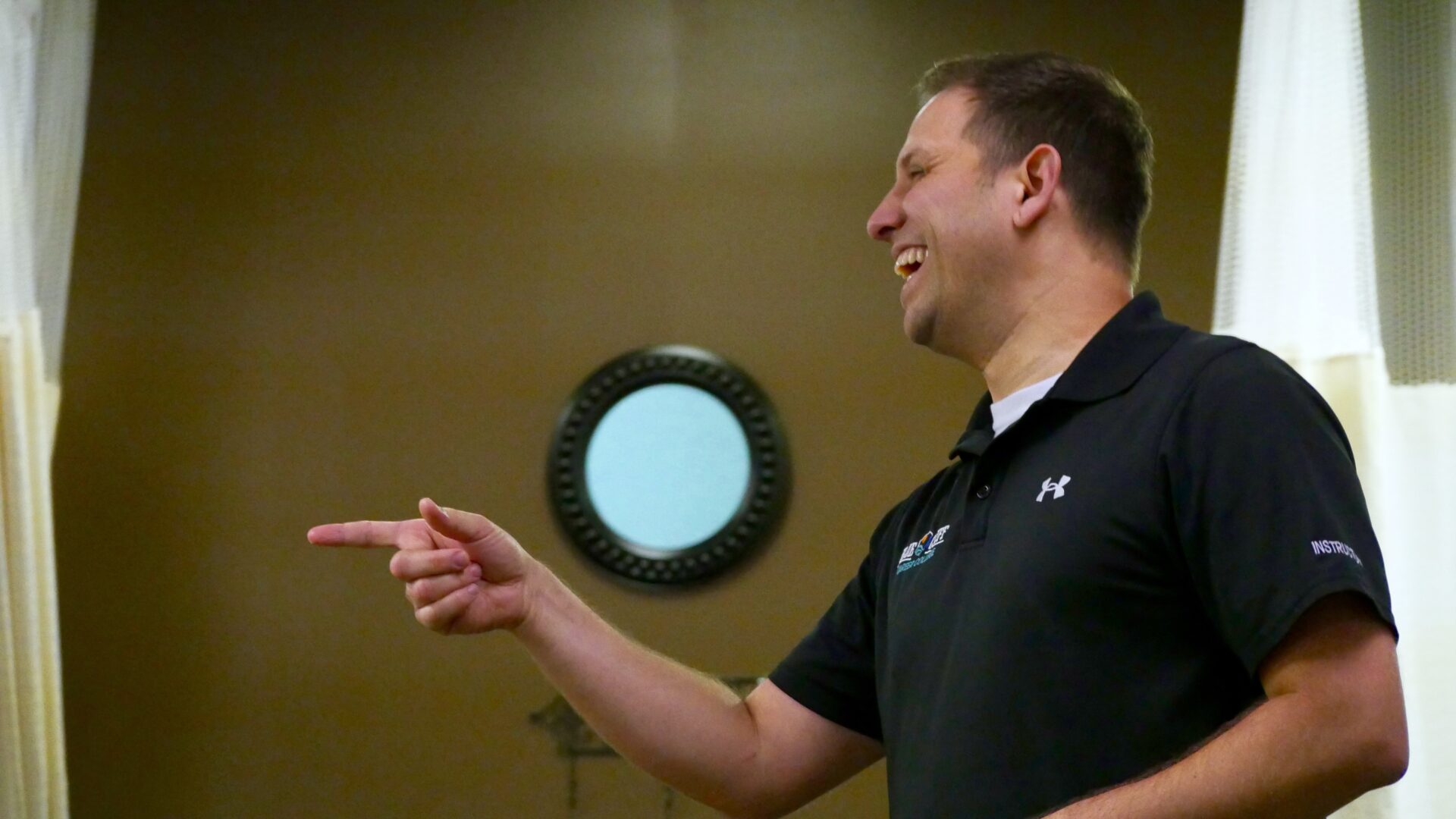 Career Options
Cruise Line
Day Spa
Hospital or Doctor's Office
Own a Day Spa
Private Practice in a Studio
Athletic Team
Chiropractor Assistant
Athletic Club
Executive and on-site
and much much more
What Classes Will You Take?
750 Hour Curriculum
Anatomy, Physilogic & Pathophysiology (100 Hours)
Anatomy: Palpatory & Kinesiology (68 Hours)
Basic Shiatsu** (35 Hours)
Body Mechanics (includes Thai Chi)** (19 Hours)
Chair Massage* (10 Hours)
Charting** (10 Hours)
Community Outreach*(**) (25 Hours)
Complementary Modalities*(**) (20 Hours)
CPR/First Aid*(**) (7 Hours)
Health & Nutrition** (12 Hours)
HIV*(**) (3 Hours)
Integration of Program Theories** (5 Hours)
Laws, Legislation & Ethics** (10 Hours)
Marketing*(**) (20 Hours)
Massage I: Swedish Massage (45 Hours)

Massage II: Integrated Deep Tissue Techniques** (45 Hours)

Massage III: Neuromuscular Therapy** (45 Hours)
Massage IV: Medical Massage** (45 Hours)
Massaging Special Populations** (34 Hours)
Reflexology*(**) (15 Hours)
Spa Massage ** (32 Hours)

Sports Massage & Russian Sports Massage** (45 Hours)

Supervised Clinic Practice (Business)** (100 Hours)
TOTAL CLOCK HOURS: 750
When Will You Take Them?
First you have to choose between our day program or night program depending on what fits your schedule best.
Day Program
Schedule:
Monday – Thursday 8:30 AM – 3:30 PM
Night Program
Schedule:
Monday- Thursday 6:00 PM – 10:00 PM
Classes with an * may be taken out of sequence and ** any sequence after Massage I: Swedish Massage. All
schedules are subject to change without notice, and the latest schedules are enclosed with this catalog.
Curriculum & schedule is subject to change by the school. If curriculum objectives are met in a given modality
above, the balance of the hours may be attended in another course/module. All training hours earned and
measured only in clock hours.
Request More Information
If you'd like to learn more about Blue Cliff's area leading massage therapy program please request more information below or give us a call. We'd be happy to answer any questions about our programs, financial assistance, or anything else related to massage therapy her at Blue Cliff.
(251)-473-2220